2 years ago
STOP BULLYING BY DENNIS SALINAS
Bullying does not always happen in person. Cyberbullying is a type of bullying that happens online or through text messages or emails. It includes posting rumors on sites like Facebook, sharing embarrassing pictures or videos, and making fake profiles or websites.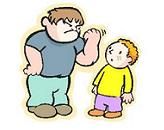 Kids bully others for many reasons, they may:
Want to copy their friends
Think bullying will help them fit in
Think they are better than the kid they are bullying
2 years ago
INTERNET BLOG BY DENNIS SALINAS
The history of the Internet begins with the development of electronic computers in the 1950s. Initial concepts ofpacket networking originated in several computer science laboratories in the United States, Great Britain, and France. The US Department of Defense awarded contracts as early as the 1960s for packet network systems, including the development of the ARPANET (which would become the first network to use the Internet Protocol.)
The first message was sent over the ARPANET from computer science Professor Leonard Kleinrock's laboratory at University of California, Los Angeles (UCLA) to the second network node at Stanford Research Institute (SRI).
​
2 years ago
Personality type refers to the psychological classification of different types of individuals. Personality types are sometimes distinguished from personality traits, with the latter embodying a smaller grouping of behavioral tendencies. Types are sometimes said to involve qualitative differences between people, whereas traits might be construed as quantitative differences.[1] According to type theories, for example, introverts and extraverts are two fundamentally different categories of people. According to trait theories, introversion and extraversion are part of a continuous dimension, with many people in the middle.
sensation—perception by means of the sense organs;
intuition—perceiving in unconscious way or perception of unconscious contents.
thinking—function of intellectual cognition; the forming of logical conclusions;
feeling—function of subjective estimation;
2 years ago
GLOBAL WARMING BY DENNIS SALINAS
What is Global Warming?
Global Warming is the increase of Earth's average surface temperature due to effect of greenhouse gases, such as carbon dioxide emissions from burning fossil fuels or from deforestation, which trap heat that would otherwise escape from Earth. This is a type of greenhouse effect.