7 months ago
The Big Picture- Cash Crunch in Indian Economy
The Big Picture- Cash Crunch in Indian Economy

[embedded content]

Queues outside the banks across the nation after the Governments demonetization move had been a common scene for the last few days. Shutters down or no cash is found at most ATMs with the primary reason being non availability of Rs.100 notes with the banks while the recalibration of ATMs is in full swing. The Government has assured that there is no need to panic and there is enough cash for the entire nation. But the brunt of cash crunch is being faced by the common man in day to day life.

Reasons and Impact:

85-86% that has been demonetized is in the process of getting replaced. The speed at which the currency is being issued and even assuming that 2-3 times more notes can be printed, the currency shortage will take at least 8-10 months to go away. What was required normally, we will need more than that because people are going to hold on to currency notes or hoard them as they are not sure when the shortage will go away.It is also being heard that the Government will give part of the salary as cash to its employees because people are unable to go to the bank and withdraw money. If this happens, the private sector may also be forced to do the same. This might lead to a further increase in shortage of currency.There are about four printing presses for currency in India and depending upon the value and number of pieces of Rs.500 and Rs.2000 to be printed, it might take a long time taking into account the large scale of withdrawal of the monetary base. It would not be a bad idea to dispel the uncertainty and instill confidence on the pace of re-monetization among people either by Government or RBI. Even if all the printing presses work in 3 shifts, it would require at least 108 days replenishing the currency notes.The other thing which has complicated the issue is the lack of standards in the currency notes. New currency notes have got new set of standards which cannot be used in the ATMs without recalibration. This has further added to the chaos. If the standards would have been same, the ATMs could have disbursed the notes without any delay. The economy was used to a system by and large where people do not need to visit their banks for day to day purposes. Management wise, response system of the banks has not been satisfactory.There might be a downturn in the economy because of the lack of demand and businesses not running as usual. As far as the black money issue is concerned, this step only checks the stock of black money and not the flow which is the root cause.India uses too much cash for transactions. The ratio of cash to gross domestic product is one of the highest in the world. Cash dominates even in malls, which are visited by people who are supposed to have credit cards; therefore, it is no surprise that cash dominates in other markets as well. Despite the recent expansion in digital wallet usage as well as the introduction of specialized payments banks, a lot needs to be done before cash is taken out of the Indian economy.The payments system in any country should be planned of as a network. It will grow rapidly provided a sound network comes in and more people begin to use digital cash. But this can happen only if all users have equal access to the network.This has not happened so far because, daily wage earners, domestic helpers or labourers tend to receive their income in cash and they even prefer to do so.

Conclusion:

This is a huge reform which touches the life of every citizen. One can only look ahead from here. It would be an interesting experiment and one should watch out as to how the citizens accept such a huge radical change.


9 months ago
Donald Trump: Drugs a 'Very, Very Big Factor' in Charlotte Protests - ABC News
Less than a day after protests over the police killing of an African-American man turned violent in North Carolina, Republican presidential nominee Donald Trump placed some of the blame for the turmoil on the impact of drugs.

If you're not aware, drugs are a very, very big factor in what you're watching on television at night, said Trump in a speech to the Shale Insight 2016 Conference in Pittsburgh today.

On Wednesday night, Charlotte experienced its second night of protests following the death of Keith Lamont Scott on Tuesday afternoon. Officers in riot gear confronted demonstrators in a downtown commercial area and employed tear gas to control crowds. One person is in critical condition after suffering an apparent gunshot wound.

The Republican nominee condemned the violence, calling for unity.

"Our country looks bad to the world especially when we are supposed to be the world's leader. How can we lead when we can't even control our own cities? We honor and recognize the right of all Americans to peacefully assemble, protest and demonstrate, but there is no right to engage in violent disruption or to threaten the public safety and peace of others."

He continued to praise law enforcement, citing the challenges they face and calling for better training.

"It's tough being a police officer, Trump said. "Police are entrusted with immense responsibility and we must do everything we can to ensure that they are properly trained, that they respect all members of the public and that any wrongdoing is always and it will be by them vigorously addressed.

But, aside from this one mention, amid his heavy-handed praise for law-enforcement and condemnation of protesters, Trump never acknowledged any pattern of violence against African-Americans at the hands of the police, which is precisely why so many protesters say they have taken to the streets. They cite the shooting deaths of dozens of other black Americans by police as cause to protest a system they say is dangerous and discriminatory and fails to prosecute far too many officers who kill African-Americans, in many instances unarmed.

Trump in recent days has appealed to black Americans, asking them what they have to lose in voting for him, even as he paints an exceptionally grim portrait of black poverty and crime.

During a rally earlier this week in North Carolina, Trump said, "We're going to rebuild our inner cities because our African-American communities are absolutely in the worst shape they've ever been in before. Ever, ever, ever,

Many African-Americans have bristled at the broad assertion. While many inner cities are plagued with crime and poverty, according to census data from 2015, 52.9 percent of all black Americans ages 25 or older hold some sort of college degree. A Pew report released in December shows that black adults experienced the largest income increase from 1971 to 2015 and were the only racial group to see a decrease in the percentage of their low-income earners. And, according to the Census Bureau, almost 73 percent of black Americans do not live in poverty.

Trump, in an effort to reach out to the black community, visited Cleveland earlier this week, appearing at a black church. And during a town hall on the Fox News Channel Wednesday night, he was asked about the threat of violence.

I would do stop and frisk. I think you have to, said Trump. We did it in New York, it worked incredibly well and you have to be proactive and, you know, you really help people sort of change their mind automatically.

But this morning in an interview on Fox & Friends he stepped back from the statement, claiming he was only referencing a strategy for the city of Chicago.

In Pittsburgh, Trump delineated a difference between what he called violent disruptor[s] and the rest of the black community. He said it was the countrys job to make life more comfortable for the African-American parent trying to raise their kids in peace, to walk their children to school and to get their children great educations.


12 months ago
71% of Americans believe economy is 'rigged' - CNNMoney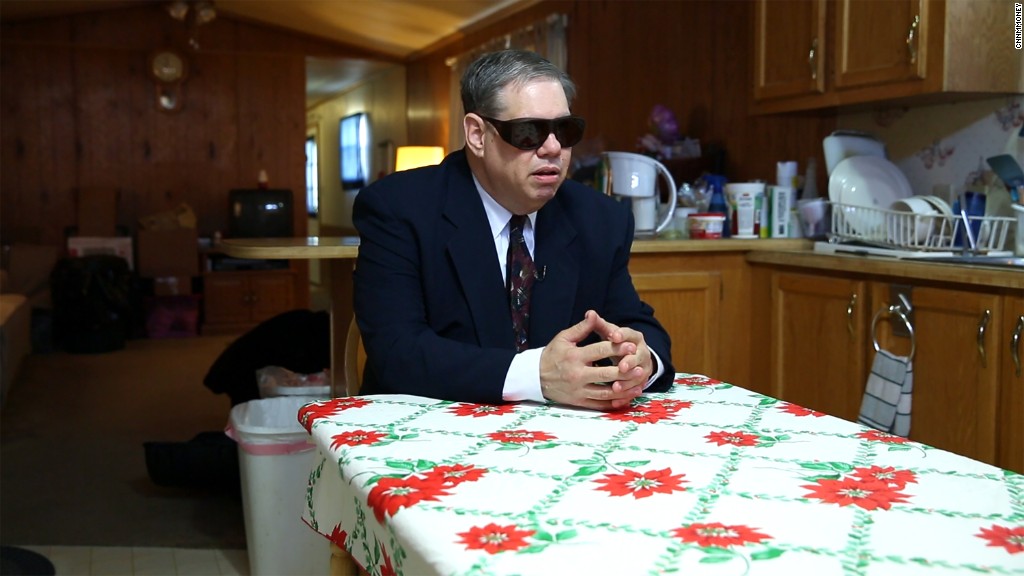 The overwhelming majority of Americans believe the economy is rigged.

Seventy-one percent think the U.S. economic system is "rigged in favor of certain groups," according to a new poll by Marketplace and Edison Research.

'; for (i = $allParagraphs.length-1; i > 0; i--) if (i > 4) afterParagraphFour = true; $currentParagraph = $($allParagraphs[i]); heights += $currentParagraph.height(); i
1 year ago
Why Bernie Sanders' Comments On The Israeli-Palestinian Conflict Are Historic - Huffington Post
Bernie Sanders went on offense during Thursdays Democratic primary debate, criticizing Hillary Clinton for barely mentioning the Palestinian people during her speech before theAmerican Israel Public Affairs Committee,the nations most powerful pro-Israel group, last month.

Sanders, the independent senator from Vermont, and Clinton, the former secretary of state, largely agree about the Israeli-Palestinian conflict. They both believe Israel has the right to exist as a Jewish and democratic state and that the Palestinian people should have a state of their own.

On Thursday, Sanders doubled down on his past argument that Israel's invasion of Gaza in 2014 in response to rocket atta
1 year ago
Utilizing Social Media Marketing To Your Advantage Dallas SEO
Since social media is so easy to use, it's tempting to just spam your feed with videos. You will want to avoid posting low quality content that may hard the reputation of your business. Social Media Marketing can be approached in so many different ways, this article will show you some of them.

No matter the type of writing you are doing, develop engaging and unique titles for your work that force people to click on them. You have the potential to gain many more customers if you can do this.

You need to tie all of your social media sites together using links in order to have the most successful campaign Include links if you have a blog where your consumers can see you on Twitt
2 years ago
Sandy Berger, ex-Clinton national security adviser, dies - Washington Post
WASHINGTON Former national security adviser Sandy Berger, who helped craft President Bill Clintons foreign policy and got in trouble over destroying classified documents, died Wednesday.

He was 70. The cause of death was cancer, said a statement by his consulting firm, the Albright Stonebridge Group.

Berger was White House national security adviser from 1997 to 2001, when the Clinton administration carried out airstrikes in Kosovo and against Saddam Husseins forces in Iraq. Berger, a lawyer, also was deeply involved in the administrations push for free trade, and in the response to al-Qaidas bombing of American embassies in East Africa.

He was deputy national security a
2 years ago
At least 14 dead as storms and ice hammer Texas, Oklahoma, Kansas - USA TODAY
UP NEXT03 A Garland, Texas man called for help before his car was flooded with water. He wasn't rescued in time. Those who were know they could have just as easily lost their lives.