For the S6 Samsung has also improved on the AMOLED display
For the S6 Samsung has also improved on the AMOLED display, both in quality and pixel density/resolution. Although we have relatively little detail on this, Samsung claims 600 nit luminance, up from their claimed 500 nits from the Galaxy S5 which means that this isn't the same panel as what we saw in the GS5 LTE-A. In addition, Samsung has included wireless charging support for both WPC1.1 and PMA 1.0 standards built into every Galaxy S6. The new fingerprint sensor is also amazing in comparison the experience with the Galaxy S5, and works about as well as Apple's TouchID system. Samsung is bundling this with Samsung Pay, which allows for payments with the fingerprint sensor for authentication and while not available at launch, Samsung will also support legacy magstripe terminals for mobile payments on the Galaxy S6. Samsung has also improved the speaker dramatically from the Galaxy S5, and it should have significantly improved sound quality and volume, in addition to the improved placement on the bottom of the phone. TouchWiz seems to remain relatively similar in design, but there's a big reduction in the number of pre-installed applications. There are some applications preinstalled by Microsoft such as OneNote, OneDrive, and Skype, but in general there's almost no bloat to speak of.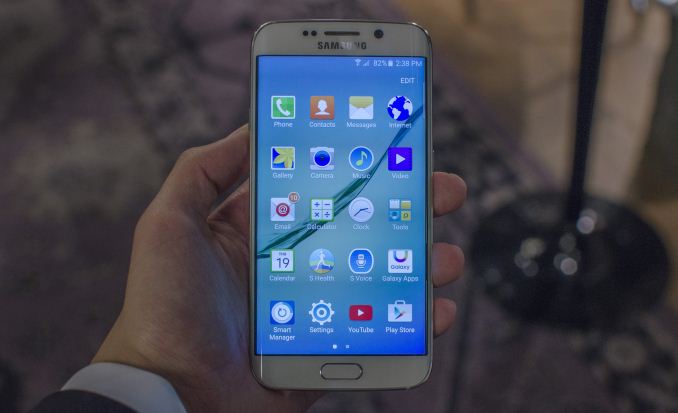 Overall, the Galaxy S6 seems to be quite promising. Although the design seems to be somewhat inspired by other devices on the market, the industrial and material design is a massive step forward from everything else we've seen from Samsung before. In general, it seems that Samsung has managed to put together a device that can truly compete with devices like the One M9 and iPhone 6 in every aspect, although it'll take a full review to really get a good idea for how it shapes up against the competition. The Samsung Galaxy S6 and S6 edge will be available globally starting April 10th with 32, 64, and 128 GB storage SKUs. The Galaxy S6 and S6 edge will both have white, black, and gold colors available, but the blue color will be limited to the Galaxy S6 and the emerald green will be limited to the Galaxy S6 Edge.
---