VAC-U-MAX To Exhibit Industrial Vacuum Cleaning Equipment Systems For High Volume Powder Dust And Liquid Recovery At International Fuel Ethanol 2015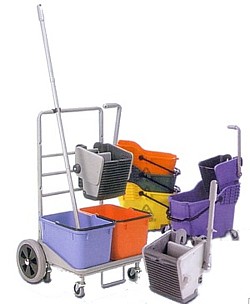 June 1-4, Minneapolis Convention Center, Minneapolis, Minnesota, Booth 1327

VAC-U-MAX announces exhibition at the 31st Annual International Fuel Ethanol Workshop Expo that will be held June 1-4 at the Minneapolis Convention Center in Minneapolis, Minnesota, exhibiting the latest advancements in industrial vacuum cleaning. Equipment on display includes the MDL 1020MFS-15HP Continuous-Duty Industrial Vacuum, Model 40008 Portable Industrial Vacuum for fine combustible powder applications, and the venturi-driven TK-05, ideal for spill kits and flammable liquid recovery. VAC-U-MAX offers a full range of air-operated vacuum cleaners for many applications, engineered to address issues of chemical compatibility, flammability, combustibility, and worker exposure to dusts. Product range also includes central vacuum systems for plant-wide housekeeping and material handling convenience. Additionally, VAC-U-MAX designs and manufactures complete bulk transfer systems for movement of bulk materials from bulk bags / super sacks, drums, and silos.

MDL 1020MFS: Continuous-Duty Industrial Vacuum for High Volume Recovery

VAC-U-MAX Model 1020 features a powerful positive displacement pump designed specifically for high volume recovery (up to 5 tons per hour) of ethanol and biofuel feedstocks. Unit is available in either 10 or 15 HP. As a continuous-duty vacuum producer, unit provides power for "breakaway" central vacs. Large rubber tires along with a dual swivel castor wheel makes the 1020 easily maneuvered by a single operator. Unit is equipped for noise levels below OSHA standards and can be supplied with multiple material handling choices for collected debris.

Model 40008: Industrial Vacuum Cleaner for Combustible Dusts

VAC-U-MAX Model 40008 is an air-powered industrial vacuum featuring a 30 gallon tank, and pulse-jet filter cleaning for Class II, Division II environments. Unit is completely grounded and bonded, and meets NFPA 77 requirements. VAC-U-MAX air-powered vacuums do not use electricity and do not generate heat, meeting the definition of an "intrinsically safe system". Unit features a single venturi suction source, manual pulse filter cleaning with air reservoir, and noise muffler for sound levels below 80 dbA.




Model TK-05: High Volume Liquid Recovery

VAC-U-MAX Model TK-05 is ideal for flammable and non-flammable liquid applications requiring high-volume liquid recovery. Unique design fills 99% of closed top drums at rates of up to 2 gallons per second without overfilling. Unit features a single venturi, producing maximum suction and air-flow with minimum air consumption. The TK-05 offers a quiet operation, with no motor noise and air exhaust muffled for sound levels within OSHA requirements. Unit is constructed of non-sparking stainless steel with ethanol-compatible vacuum hose and gaskets.

About VAC-U-MAX

VAC-U-MAX designs and manufactures pneumatic conveying components and systems for vacuum conveying, batching, and weighing of powders and bulk materials in the food, pharmaceutical and chemical industries. The primary technology for conveying is vacuum, however VAC-U-MAX also specializes in positive pressure systems and mechanical conveying. Since 1954, VAC-U-MAX offers solid application and process automation expertise for bulk materials handling, including the design and manufacturing of a full range of industrial vacuum cleaning units and fully-integrated systems for high volume dust, combustible dust, fine powder, bulk material, or liquid recovery. Product line also includes mechanical / flexible screw conveying systems, bulk bag loading / unloading systems, bag dump stations, and UL-listed control panels. For more information, visit www.vac-u-max.com.


---