Recent Graduate Designs Graphic Art Projects on Campus · Keene State College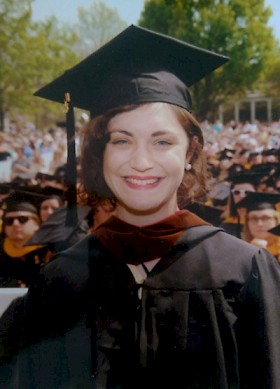 Meghan Graham

When recent graduate Meghan Graham returns to Keene State College, she make money will have more than fond memories of her days on campus - she will see her design and art work on display. Graham, a native of Hooksett, NH, earned a dual degree in Graphic Design and Studio Art, while working as an intern with the College to design pieces for common areas and buildings on the campus.

Earning an internship as a sophomore, Graham went right to work helping to add a little more flash and color to several buildings on campus. Working with assistant vice president of Student Affairs Paul Striffolino and Mark Gempler, the associate director of the Student Center, Graham designed eye-catching fabric sculptures that hang over the information desk in the Student Center, and selected rugs and banners that adorn Zorn Dining Commons.

Graham, like other Art and Graphic Design majors at Keene State, was pleased to design pieces for campus. "I felt pride in knowing that my opinion was trusted, which gave me more confidence as an artist," she said. "I gained experience to help me find a job after graduation, and had a dream job while I was in college. I was incredibly lucky."

Graham, who has displayed her work at several senior shows on campus and in Brattleboro, VT, is pursuing her dream to be a bookmaker, working in a studio doing print making and handcrafting books. She is spending the summer working with adjunct professor Julia Ferrari in her Ashuelot studio.


---