Psychologist Thinks Jodi Arias is a "Manipulative Liar with a Violent Streak"
According to psychologist Dr. Janeen DeMarte, Jodi Arias has borderline personality disorder and she is a manipulative liar with a violent streak. And ABC News also reports on Monday, April 22 that the doctor revealed something never before known about the murder suspect, which she learned while spending 12 hours interviewing the accused in jail.

DeMarte says that after shooting and stabbing her boyfriend to death, then going to his memorial service and playing innocent about the crime, Arias flirted with another guy on the airplane ride home. DeMarte said that on the plane ride home Ms. Arias exchanged phone numbers with another male, whom she then called after she came home from Mr. Alexanders memorial service.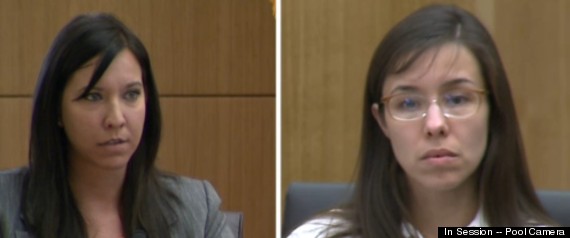 How sick it that? And why did Jodi tell this psychologist that information, given that it was so incriminating?

The dark-haired murder suspect continues to stand by her claim that Travis Alexander was abusing her and she killed him in self defense, but the prosecution continues to emphasize to the jury that it is just a ploy she and her defense are using to try and get her off the murder rap and to gain sympathy from the people who will decide her fate.

ABC News commentator says Dr. Janeen DeMarte thinks Arias is a manipulative liar with a violent streak. And who can argue with that considering the fact that her boyfriendwho outweighed her, by the wayis the one who was shot and stabbed to death? Not her.

Dr. Janeen DeMarte and Jodi Arias photo credits: Huffington Post.com via Pool Camera


---