Housing Starts Jump -- The Other Side of the Coin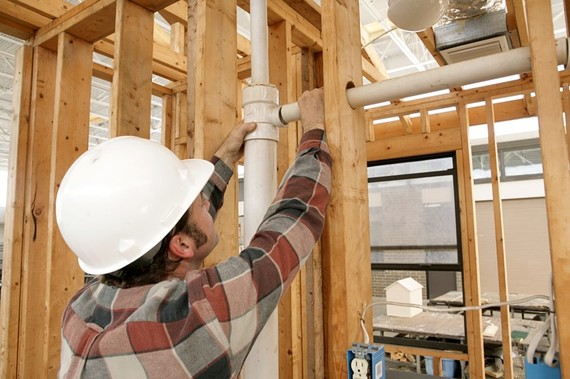 Builder sentiment is at its highest level in a decade, with that index at 60. The midline between positive and negative sentiment is 50, and the index has been sitting in the 50s for a while. This rise is not unexpected, as housing starts are up significantly as well.




In June, housing start building permits surged to an eight-year high. Groundbreaking rose by almost 10 percent to over one million units. This is good news for a whole lot of people, as home construction is one of the most powerful stimulants in the economy. When people are buying, and homes are being started, there is a general uptick in many economic areas.

Builders are happier than in the past 10 years, and housing starts are jumping. But this is a double-edged sword when it comes to coming back from our severe downturn. During the crash, home building almost stopped completely. For a while, even apartment and commercial construction suffered dramatically.

When the work goes away, the workers go away as well. If you're a carpenter, electrician or plumber, you can't sit around and wait a few years for a new home to build. Where they go is not data we're aware of, but they definitely go do other things. Some start their own business, maybe repairs or remodel, while others take jobs totally unrelated to their previous construction experience.

Nine trades (9-trades index) are tracked in relation to home construction. According to National Association of Home Builders economist Paul Emrath, the 9-trade shortage is now at a level around where it was during the boom of 2004 through 2005. However, that's when starts were at around 2 million each year, while right now they're at just over half that number. It's clear that this shortage indicates the flight of many workers from the trades over the past seven or so years. Unemployment in the construction industry is at its lowest level since 2001.

This is a less-discussed influence on https://www.rebelmouse.com/deangraziosireview/about-dean-graziosi-1301210267.html home prices as well. We have growing building permits and home starts combined with fewer workers in the trades that are necessary to build those homes. Contractors are competing in hiring, with way too few workers from which to choose. If I were a skilled electrician, concrete worker, plumber or other construction worker, I would be negotiating for some nice rewards for making it through the lean years.




When the trade workers demand more, the contractors factor it into their bids and new home prices rise. Supply and demand rules, and this increases the cost of existing homes as well. If it costs more to build new, then the value of an existing home usually rises as well. Of course, how close it tracks with new home price increases depends a lot on location, age and amenities.

It's a half-empty and half-full situation, but in general we should have a positive economic outlook if home building begins to increase again. New trades workers will come into the workforce for the high wages, and some of the old ones will return. It's a good thing books on investing in real estate for the most part.

http://www.huffingtonpost.com/dean-graziosi/housing-starts-jump-the-o_b_7834964.html


---