Police believe one car, two suspects connected to several metro crimes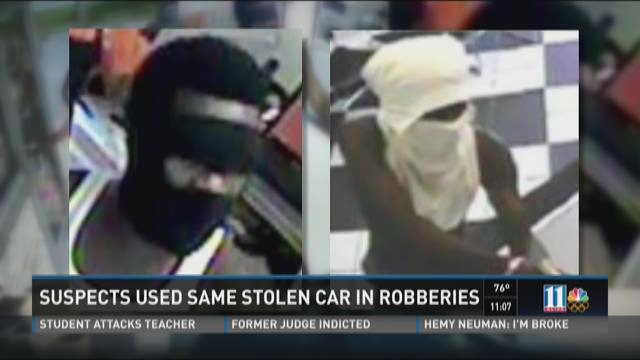 ELLENWOOD, Ga. -- Police believe two gunmen may be robbing stores in the Atlanta metro area before getting away in the same stolen car.

11Alive spoke to investigators in Henry County about the incident.

The two suspects are accused of robbing a pizza place in Ellenwood during a busy part of the day - around 5 p.m.

It was during a shift change so there were several employees there when ithappened.

Two suspects had their faces covered, one with a black mask and the other with what looked like a white towel. They walked in with guns pointed at the employees.

Police said they cleaned out the cash register and also walked out with an armful of the employees' purses.

And police believe it's not the first time the two have been involved in local crime.




Police are asking people to concentrate on the car they were driving - a black Volkswagen Golf. It was stolen out of Lawrenceville in January and, since then, has been used in two or three other robberies.

It still had the original South Carolina plates on it.

So far, no one has been hurt in the robberies.

"In the past, through experience, it's that they will continue to do that until they get caught," Capt. Joey Smith of the Henry County Police Department said. "We just hope it doesn't escalate."

Since January, they've been using that car in as many as three other robberies - one of them in Cobb County.

That's unusual since criminals usually ditch a stolen vehicle after one crime.

That's why police are hopeful someone sees, or has seen, the car and that they call Crime Stoppers.

http://mcdonough.11alive.com/news/news/1856542-police-believe-one-car-two-suspects-connected-several-metro-crimes

https://www.incorporate.com/georgia.html


---