Kenyan aristocrat gets 8 months for killing
NAIROBI, Kenya (CNN) -- A Kenyan judge Thursday sentenced one of the country's most famous white aristocrats to eight months in prison for fatally shooting a suspected poacher on his family estate.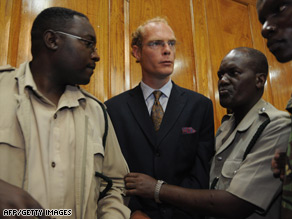 Thomas Cholmondeley, 40, is led into the courtroom in Nairobi, Kenya.

The case of Thomas Cholmondeley, 40, has highlighted the country's fractious relationship with its British colonial past. Cholmondeley is white and his victim was black.

---