Congratulations, Matt & Leanne!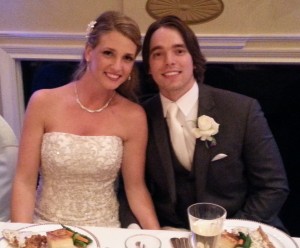 Our former installer, repair man, salesman, YouTube video producer, and just about everything else entrepreneur, Matt Fernandes, who purchased DDM Garage Door & Dock Services Co. at the end of January, just tied the knot with Leanne Toellen last Saturday.




What a day! What a year! Congratulations, Matt andLeanne! God is so good! His ways,His plans, His thoughts are so much higher than we can ever imagine! Your lives bear witness to that.




Matt, your achievement in work and business is commendable. Youre one of just a few young business owners Ive known who have worked as hard as you have and who have attainedwhat you have.

Leanne, you are also quite accomplished in your career. And youve chosen well.When I met your father at the dinner I made it a point to introduce myself as Matts former boss so I couldtell him with confidence, Matt will take very, very good care of your daughter.

Just as you both understand that every good gift and every perfect gift comes from our loving heavenly Father, you understand as well that every gift, every talent, every treasure, every blessing is a stewardship entrusted to you bothto honor God.

Honor God with the confidence only He can provide, and with the humility of our precious Lord, Jesus Christ, Who,though he was in the form of God, did not count equality with God a thing to be grasped, but emptied himself, by taking the form of a servant . . . (Phil. 2:6-7 ESV)

The Lord bless you and keep you; the Lord make his face to shine upon you and be gracious to you;the Lord lift up his countenance upon you and give you peace. (Num. 6:24-26 ESV)

This entry was filed under Uncategorized.You can follow any responses to this entry through the RSS 2.0 feed.

http://ddmgaragedoors.com/blog/2015/05/07/congratulations-matt-leanne/


---