Newborn found buried alive alongside Los Angeles area walking path - CNN
Story highlightsPolice say newborn girl buried alive under walking path asphalt Witnesses say they heard faint cries which they at first thought was a cat Police say the baby was born within the last 36 to 48 hoursParents face attempted murder, child endangerment charges if found Blount was walking in Compton on Friday, when her sister Evangelina McCrary pointed the sound out to her.

"She told me, 'Can you hear the baby crying?'" Blount told CNN affiliate KABC. "And I said, 'I don't know; it might be a cat.' And my sister said, 'No, it's a baby crying.'"

They called 911.

Two deputies from the LA Sheriff's Department found the newborn under pieces of asphalt and debris inside a crevice.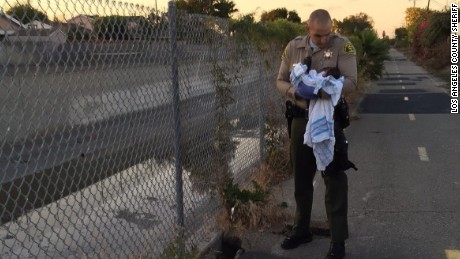 She was "cold to the touch" and wrapped in what appeared to be a hospital blanket, the sheriff's office said.

"There's indications that the child was born at a medical facility or at a hospital...because of the blanket," LA Sheriff's Dept. Sgt. Marvin Jaramilla told journalists on Saturday.

Paramedics treated her at the scene before transporting her to the hospital where she's listed in stable condition.

Police say the baby girl was born within the last 36 to 48 hours. She's lucky to be alive.

"We do know that if the child had spent the night there in those conditions the baby wouldn't have survived," Sgt. Jaramilla said. If the parents are found, they will face attempted murder and child endangerment charges.

Los Angeles County has a so-called "Baby Safe Surrender Program" that provides parents the option to hand their baby over at any LA county hospital or fire station, no questions asked.

"I don't know how someone would just dump the baby and throw them in that hole and forget about it," resident Angel Flores told KABC.

CNN's Amanda Watts and Andy Rose contributed to this report


---