Chris Martenson: Make Yourself More Self-Sufficient NOW, While It's Still Easy...
Well now, without further delay, let's get right to this week's exclusive interview.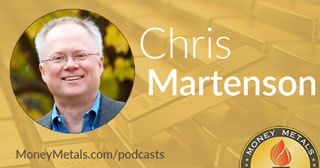 Mike Gleason: It is my privilege now to welcome in Dr. Chris of PeakProsperity.com, and author of the book Prosper! How to Prepare for the Future and Create a World Worth Inheriting. Chris is a commentator on a range of important topics such as global politicals, financial markets, governmental policy, precious metals and the importance of preparedness among other things. And it's always great to have him with us.
Chris, welcome back and thanks so much for joining us again.
Chris Martenson: Thank you. It's a real pleasure to be with you today, Mike, and all of your listeners.
Mike Gleason: Well, since this is actually the first time we've had you on in 2017, Chris, to get started here I'd like to have you set the stage for us because many of us continued to be confused and bewildered by the resilience of these markets. So, first off, give us your thoughts on the first 130 days or so of Trump's presidency, and then how is it that the U.S. equities market continues to soar to new heights despite what appears to be massive overvaluation? Basically, assess for us what's going on in the political and financial markets here during the first half of the year as we start off.
---