How Would Markets React If Trump Is Actually Forced Out of Office?
Donald Trump's policy agenda – and his very presidency – are in jeopardy...
...at least if you believe the chatter on cable television.
Yes, for weeks now, the big media outlets have been stirring up talk of impeachment. One narrative after another – Russia, Comey, Kushner, etc. – yet no conclusive evidence of any "high crimes and misdemeanors."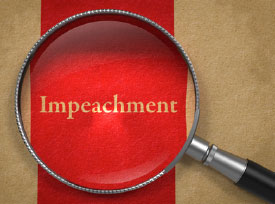 Still, Democrats in Congress smell blood in the water… and they have readied articles of impeachment for introduction as soon as an opportunity presents.
But investors don't seem particularly concerned about the implications of political turmoil intensifying in Washington.
The stock market keeps edging higher with minimal volatility.
The only hint of politically driven jitters all year came on May 17th. The Dow Jones Industrials slid by nearly 400 points as reports surfaced that former FBI Director James Comey was asked by President Trump to stop his investigation of former national security adviser Michael Flynn.
A few days later, the Dow rallied back up to its previous highs. The traditional safe-haven of gold is up modestly on the year but has yet to see any major sort of panic buying. Perhaps investors don't believe the Trump presidency is at risk – or perhaps they don't think it matters much if Trump gets pushed out of office.
Markets Appear Unconcerned by the Theatrics in Washington
What would a Nixonian crisis in Washington mean for Wall Street and, more importantly, main street? Probably not a whole lot in terms of major trends in the economy and in asset prices.
Consider the recent history of presidents who have gotten themselves into trouble. Neither the resignation of Richard Nixon nor the impeachment (and subsequent acquittal) of Bill Clinton caused the stock market to crash. Precious metals markets didn't move much around these momentous political events, either.
---