Download hack facebook account password free
How to Hack Facebook without Using Phishing and Keylogger

Try and open an internet search engine. Begin an internet search for the most effective ways to hack on a Facebook account.

What results did you get? If we are to hazard a guess, we had say it's mostly about phishing and keyloggers, right? Sure, we're right.

Phishing is a straightforward procedure and a hacker favorite that is clear. It makes use of a cloned or a bogus website to dupe victims into inputting their account user name and password. The data instantly sent to the hacker for him to use he is cooking up, once they enter it.

Every keystroke done on the machine is logged after the file is opened. The data is collected and once again sent to the email address the hacker has assigned. Then it's only a question of sorting through the information to find the Facebook username and password the hacker needs.

But those two are not the only accessible Facebook hacking systems. In fact, if you are a small pc hacking novice, you would possibly be better off staying in favor of a more straightforward hack. It's called reverting and it doesn't demand any keylogging or phishing at all.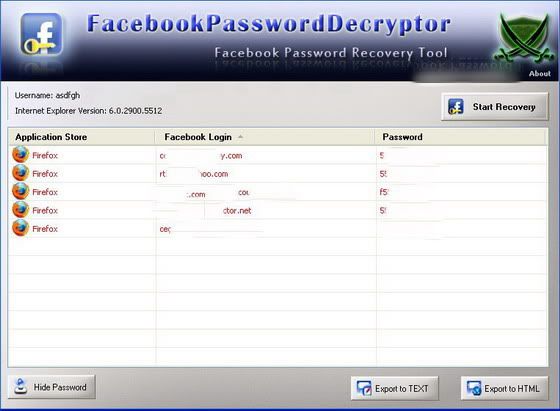 What exactly is reverting? To put it simply, it is resetting the Facebook password. That is done without the wisdom of the individual whose account you are trying to get, of course. It is low level hacking is what it is. As such it requires significant brain power, just a well, a brain that is working or no practical abilities.

To start, make sure that our victim isn't really logged in can a facebook account be hacked to his Facebook account. Additionally you need to ensure that you aren't logged into your own account. Then follow the steps outlined below:

1. Go to Facebook

Any one of them will launch the form you'll need to hack on the account.




2. Type in your email address.

3. Apply the required choices.

4. On the question asking for the email linked to the endangered account, enter NO.

5. Under your contact email address, type your own email address to ensure you get the password reset e-mail and never the victim.

6. Under Complete Name, write the intended victim's name.

7. Under Date of Birth, enter the casualty's date of birth.

8. Type in the URL of the Facebook profile that is compromised.

9. Click on Submit.

10. Wait with the password resetting directions for the e-mail from Facebook.

There you might have it. Ten steps that are easy and quick to revert a password. Before trying it out nonetheless, here are some additional suggestions:

-- Instead of using your standard email address to send the reset e-mail to, you might want to produce a brand new email account specifically for this purpose instead. Recall you're attempting to hack into another person's account. You actually don't want your legitimate email address related to that, do you?

-- do not understand your victim's complete name? Try accessing his Facebook profile page. It is typically reflected there. Or if it is not, test your sleuthing skills by running a Google search on the email address that is primary the he is using. It merely might redirect you to his other accounts where his full details are listed. The same trick may be used to find out his date of birth.

Hacking into Facebook accounts haven't been simpler with all of the tools and methods available now. Nevertheless, occasionally the old school way is the most clear-cut strategy to do it.


---